Girls stumble in non-conference matchup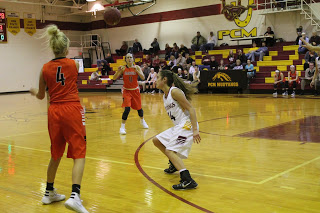 by Tyler Foster
In a rare Thursday night at home game against a rare non-conference opponent, the Mustang girls' varsity basketball team took on the Fairfield Trojans. The Mustangs came out of the gate connecting on all cylinders, attacking Fairfield's full court pressure and pulled themselves to a one-point halftime lead, 28-27. Ultimately, the Trojans found a way to gain some momentum in the second half and out scored the Mustangs 32-12 in the second half, giving Fairfield a 59-40 victory.
Leading scorer for the Mustangs on the night was junior Katie Vande Wall with 13, and fellow juniors, Kayla Jennings and Rachel Stafford each scored eight a piece. Vande Wall also hammered the boards well as she corralled eight, nearly bringing her to a double-double.
The Trojans were able to harass the Mustangs with pressure creating 21 steals, which turned out to be a game changer. Fairfield was led by sophomore Nicole Buch who paced the way with 22 points while connecting on a few key three-point baskets to extend the Trojan lead.
The Mustangs look to rebound against North Polk. In their previous matchup, the Comets secured an eight-point victory. Seeking revenge, PCM will travel to Alleman Friday, Jan. 26, with the girls' game beginning roughly at 6 p.m.