Last competition of year brings triple crown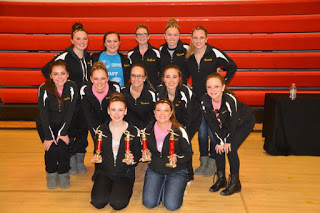 by Kenzie Johnson
From the early mornings, to the countless hours of hard work and practice, the PCM dance team prepared for their final competition of the 2015-16 season. On Jan. 16, the girls loaded up on the school suburbans and headed to Newton for the very first Cardinal Dance Classic. The Mustangs succeeded, as they triple crowned and placed second overall.
The PCM girls performed in the 1A-2A division. They performed their hip hop, pom and jazz routines. These were the same performances they took to State this past December.
At the end of the day, the girls ended up taking home three first-place trophies in their division. Along with triple crowing, they ended up second overall to Urbandale High School, who competed in the 3A-4A division.
"Our performances at the Cardinal Classic were full of energy," senior Samantha Rosonke said. "Everyone left everything on the floor, ensuring that our routines looked both strong and clean. I couldn't have asked for a better outcome to my last competition."
Come out and support the PCM dance team as they hold their home spring show March 12 at 4 p.m.