Holiday buzz doesn't overshadow giving spirit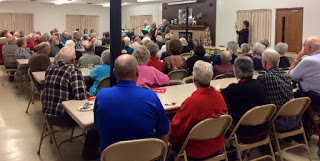 by Ashley Miller
The holiday season is a time of giving.The fortunate give to the unfortunate. Everybody wants to spread their holiday cheer, PCM and its surrounding communities are no exception. From Student Government at the high school to the Monroe Public Library, everyone is helping out this holiday season.
After Mrs. Tara Williams and Ms. Samantha Pohl became the advisers of PCM's Student Government four years ago, they've adopted a different family each year, providing them with winter clothing, toys and gift cards. Their goal is to give back and bring happiness to families in the community.
"Each year, we ask the family to provide us with a list of things that they need,and also things that they want. We try to get everything we can. We've purchased things like clothes, winter boots and coats, toys and even gift cards for groceries," Williams said. "We just hope to make the holiday season a little easier and a lot happier for a very deserving family. Lots of people go through hard times at some point in their lives, and we want to make it easier for a family in our community."
Student Government has also held sock drives, sold candy bars and hosted a Chuck-a-Duck fundraiser. The teachers at the high school also had the opportunity to wear jeans on specific days for five dollars each. The money raised went to the Random Acts of Kindness fund, which supports families in the community as well. Teachers aren't the only ones from PCM giving back.
Recently, sophomore Rory Van Gorp donated 70 personal care packs for his Eagle Scout Project to the PCM Food Bank. PCM's FFA also collected clothing and nonperishable food for the community. If you or someone you know would like to donate to the PCM Food Pantry, it's located in Monroe at the Presbyterian church.
Churches across town also collected personal products for women and children. The Monroe Library was home to an Angel Tree. Its purpose is to reach out and provide gifts to children. Kiwanas hosted a free senior dinner on Dec. 10.
One community member in particular has contributed a lot of time and effort to the community this holiday season, and her name is Patty Eilander. From performing at benefits to helping mothers in need, Patty's good deeds do not go unnoticed.
"Helping out makes me feel wonderful," Patty said. "I like to be useful."
Patty also performs as the Patty Richards Country Music Show. She performed a show at a benefit for a family in need. She also volunteered to perform at another benefit for a heart transplant patient. She, along with other do-gooders, helped out Clearview Recovery in Prairie City by making purses filled with personal products and snacks for 19 mothers and their children. She also makes and gives the Animal Rescue League "kitten cozies," which are little beds for the cats who have yet to be adopted.
She hopes she can make the people she's helping feel better, and hopefully when they are in the position to help others,they'll remember that time they were helped and lend a hand to another in need.
Even though the holiday season is coming to a close, there's no need to stop giving. If you see or know someone who's in need of a little assistance, go on and help them out. You never know when you'll need help yourself.