TVs invade PCM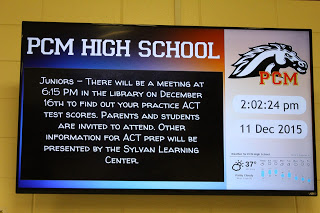 by Clay Cooper
Recently, PCM has been craving a change. So instead of leaving everything the same, PCM has decided to spice things up a little bit by introducing three brand new flat screen TVs.
The purpose of these TVs are not to watch shows, movies or even play some Xbox. The purpose of the TVs are quite simple and helpful at the same time: They are to inform students of the announcements of the day, like sports updates, what's for lunch, birthdays and common announcements.
But like all new things that make their way to PCM,the TVs come with controversy.  Some students like them and some students say, "Change the channel!"
Sophomore Elijah Sperfslage said, "I think I like them. When visitors walk into this school, it makes it feel more upper class and less dirty."
But sophomore Luke Kramer said, "I think that they are kind of pointless. We could spend the money on something different, and the same thing could be accomplished with a whiteboard."
The main goal of the new investments is to improve communication.
Principal Scott Bridges said, "We are doing this just so there is more information. There are a lot of other schools that are doing this, and it's something that we really need to not fall behind on."
The locations of the TVs are as follows: In the library, the entrance way and above the concession stand.
Another use of the TVs are for the fans at basketball games. If you want to get something to eat or have to step out for awhile, there will be live footage of the game, so you won't miss a thing.
PCM had a great early Christmas. I hope you have the same. Remember to stay safe, eat healthy or don't and may the force be with you.