Mustangs pull off tough victory in home opener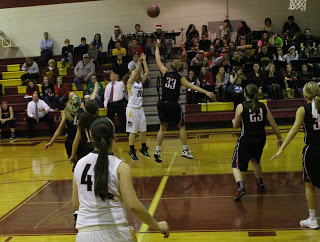 by Logan Gilman
On Friday, Dec. 4, the PCM Mustang girls' basketball team had their first home game of the year, taking on the Roland-Story Norsemen. The home crowd was a welcomed sight for he Mustang girls, as they had had four-straight games on the road leading up to the contest. The Mustangs got the job done in front of the home crowd, winning the game 47-40.
The Norse came out strong and held a 10-7 lead after the first quarter. The visiting team built on their first quarter success in the next frame and pushed their halftime advantage to six, taking a lead of 23-17 into the break. The Mustangs regrouped at the half and came out firing in the third quarter as they pulled ahead of the Norse 34-32 heading into the final eight minutes. The Lady 'Stangs held on to the lead to win the game, despite shooting just 5-14 from the free throw line in the fourth quarter.
Head Coach Jeff Lindsey said of his second-half comeback, "I'm very proud of them. We probably played our worst half of basketball in the first half, and we came out in the second half and shut 'em down. They're a tough, gritty bunch. As the game goes on, they get tougher. That quite honestly won us the game."
The Mustangs will be in action tomorrow night, Dec. 11,  at 6 p.m. in Baxter, taking on rival Collins-Maxwell-Baxter.