Greiner's game winner earns Mustangs first win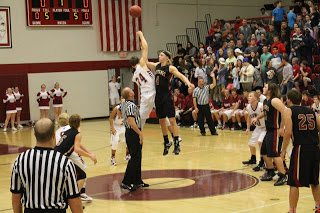 by Gunnar Davis
Only 5.6 seconds remained on the clock in the season opener on Dec. 1 at South Hamilton when junior Luke Greiner received the inbounds pass from the sideline. The Hawks were up by one point and were expected to compete for, if not win, the Heart of Iowa Conference championship this year.
Greiner and the PCM Mustangs boys' basketball team thought otherwise.
Greiner took the pass at the top of the key, dribbled through a double-team and put up a contested floater from just past the free-throw line. Swish. With under two seconds left, the game was basically over. The final buzzer sounded, and the Mustangs escaped with a 55-54 victory.
"It was more of a panic. I wasn't really thinking," Greiner said. "All I knew is that I was going to run as hard and fast as I can at the hoop and probably throw it up there and hope it goes in. Seemed to work well enough."
Although the final result was a win, the Mustangs had to work hard all game against a talented South Hamilton squad. The Hawks hit four three pointers in the first quarter alone and really lit up the Mustangs' zone defense. PCM battled back with body shots, hitting transition layups and short jumpers to keep them in the game. The score heading into halftime in a back-and-forth first half had PCM down four, 35-31.
"We just had to keep playing hard," Head Coach Fred Lorensen said. "They made seven threes in the first half, so we were trying to do a better job taking those away. Offensively, we felt like we had to keep moving. We were really impatient the first half, and we tried to move the ball up the floor and get it going from side to side. We did a lot better job in the second half."
The second half was much like the first, in terms of competitiveness, but the Mustangs tightened up some things defensively and the Hawks missed a couple key free throws late in the game. This allowed PCM to score a win, moving their conference and overall record to 1-0.
"Well, I think [South Hamilton] is a very good team, one of the best teams in our conference," Greiner said. "They came out hot, but I think we only allowed them to have 19 points in the second half. We really stepped it up, made some big time plays and came out with the W."
Greiner ended up leading all scorers for both teams with 20 points. Senior Logan Gilman also had 14 points. Junior Mark Bruxvoort and freshman Andrew Van Ryswyk each added six.
After a confidence-boosting win, Lorensen was proud of his team.
"That's what I told them in the locker room after the game; just we got down early and it would've been really easy to throw it in," Lorensen said. "We knew they were supposed to be really good, and we weren't sure what we could do yet. We just battled back and just played really, really hard. It was a great team win. We had a lot of guys do a lot of good things."
At press time, the Mustangs' next game will be at CMB on Friday, Dec. 11. The team will look to gain revenge on last season's loss that forced them to share the conference title.