Jeff Lindsay: New era in girls' basketball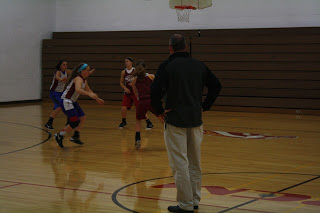 by Tyler Foster
The PCM Mustangs' girls basketball season has begun practice started last week, and the girls participated in a jamboree on Nov. 16. The team is looking to rebound after a strong season finish last year, making it all the way to Substate before losing to then number-one Mediapolis.
The Mustangs' roster also includes a new head coach: Jeff Lindsay. Lindsay has years of experience and was previously an assistant boys' basketball coach for PCM. He is an active Health and Physical Education teacher at Colfax-Mingo and is a graduate from there. Lindsay also is part of the PCM baseball team, serving as an assistant.
The Mustangs return just two starters from a year ago, but the team does have quite a bit of depth. The returning starters from the previous year are juniors Katie Vande Wall and Kayla Jennings. Senior Emily Hugen and juniors Jayci Vos, Kaylee Townsend and Rachel Stafford also played minutes for the Mustangs last year.
"I'm looking forward to yet another great season of Mustang basketball. I'm excited to get back on the court and grow as a team." said Jennings.
The Mustangs will first be in action in Knoxville against the Panthers on Saturday, Nov. 21, with JV starting at 5 p.m. and the varsity team following at 6:30 p.m.