Hugen digs deeper into scientific career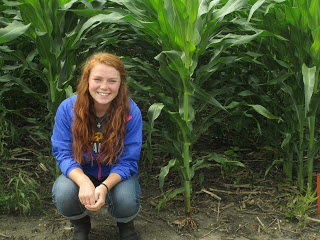 by Logan Gilman
If you were to walk outside, what would be some of the things you notice? The trees, the birds, the grass? You probably wouldn't notice the thing that keeps all these things going and alive: The soil. One student at PCM is inspired by this thought. Senior Emily Hugen had the chance to work alongside some of the world's best scientists this summer in Ames at the National Lab of Agriculture and the Environment, through the United States Department of Agriculture(USDA).
Hugen got accepted into this through the Global Youth Institute, which allowed her to apply for the Wallace Carter Program. She lived in Ames for two months and worked nine-hour days, five days a week.
"This adventure and internship was my first time living away from my parents. That was something new all on its own. I appreciated the independence. I'm just going to go out on a limb here and say I was the youngest intern working in the lab. The youngest people I worked with were at least 21 and up and were mostly finishing up college." Hugen said, "This was daunting because I wanted to show that I had experience and I knew what I was talking about, even though I was still in high school. The atmosphere I worked in was really welcoming and warm."
Hugen used tools to measure the photosynthetic rate of corn and soybeans.
"I really enjoyed actually doing hands-on laboratory work. What you do in your basic science class is far from how actual scientific research is conducted." Hugen said, "There are so many precautions you have to follow as to not contaminate any of the data."
At the end of the summer, Hugen went on a trip to Washington D.C. and met many world-renowned leaders.
"The trip to Washington D.C. was amazing. I really fell in love with the city. It was such a fast-paced setting where we met so many renowned leaders that worked through the USDA or other companies. We would go out to dinners with these leaders and were able to talk one on one." Hugen said, "All in all, everything was a great learning experience, and I've met a lot of great friends through it."
With all of the great experiences, Hugen said her favorite part of the trip was, "I actually figured out what I want to do with the rest of my life: I want to be a soil research scientist."
One thing that Hugen wants is for soil to be brought to light more because it is undoubtedly an important part of the environment.
"The thing about soil science is people don't take it into account. Obviously we need to study the genetic makeup of corn so that it can survive in droughts and things like that. Nobody pays attention to soil 'cause it's just there." She also added, "There was a really good quote at the lab that was about soil tilt, and it said, 'Be mindful of where you're stepping.' Because nobody pays attention to it. I think there is a lot of interesting things that can be better about our soil. And somehow I want increase the rate that it replenishes itself. I'm interested in it and inspired by it because I think it will make an impact on people's lives for the better."
So as you go about your day today, take a moment to think about the world beneath your feet, and always be mindful of where you're stepping.