"If we cannot find the road to success, we will make one." That is the motto for the newly graduated class of 2015. As 81 students walked into the steaming hot gym on May 24 in their black and silver robes, listening to the band play "Pomp and Circumstance," most probably though to themselves, "I can't believe I'm graduating today."
"I feel like everything I worked for finally paid off. It was emotional, sad, happy, exciting and relieving," graduate Rachel Freland said.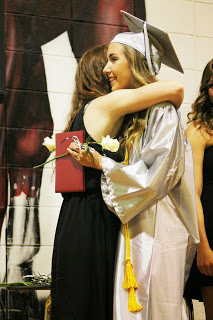 Fellow graduate Dakota Timmins, student body president, spoke, along junior National Honor Society representative Samantha Rosonke and senior class Governor Michael Birkenholtz. The gym listened to the PCM choir sing "For Good" by Mac Huff.
Principal Scott Bridges introduced the class, and then School Board President Greg Ingle presented the graduates with their diplomas with Superintendent Jane Babcock.
As the class of 2015 walked across the stage and were handed their diplomas and their class flowers, a white rose, they knew they were finally done.

"The most important part: The memories that were made. That is the most crucial thing to me," Freland said. "I know I wasn't born and raised a Mustang, but I do know that no matter what, I have memories and connections to last a lifetime."