Stephens steps out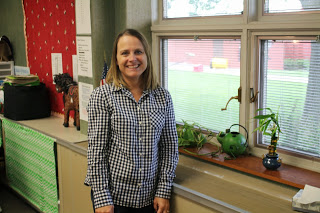 by Kesley Gilbert
Ms. Gretchen Stephens came to teach at PCM in 2012, standing in front of her Algebra and Basic Algebra classes, to show the students what loving math could really be like. Now, after three years of teaching, Stephens has decided to throw in the towel and leave PCM.
Stephens first started her career in education as an as a special education associate before she went back to get her degree. While Stephens can also teach social studies, she chose to teach math for the time being, as it offered her a more challenging teaching course.
"My favorite moment of any class is watching a student finally understand what they are working on, or when they get something right," Stephens said. "You can see it on their faces, and I call it their 'A-ha' moment, when a problem or equation finally clicks with them."
Teaching the magic of numbers is not her favorite thing in school. Instead she enjoys playing kickball at freshman orientation. She wishes that more physical activity could be art of her teachings and part of math classes to keep the kids sharp not only in mind but body, also.
"Our math scores have gone up with Iowa Assessments, and that's been positive," Stephens said. "I think, this year, the biggest achievement I made was spending extra time working on my classroom. I made it feel more homey, with comfortable chairs, plants and fun bulletin boards. The kids really enjoyed that and were able to relax better to work harder."
Her room features a great expanse of plants and pottery, and what most students notice when wandering in is the amount of green, her favorite color. Even a green flip-flop is attached to the dry-erase board, allowing her to show how to "flip" fractions in a more creative and entertaining way.
Stephens does not plan to go directly back into teaching. Instead, she will travel with her husband around Europe during the summer, and is looking into going back to Mexico. With her two sons, one being a senior in college and the other a senior in high school, she will be busy with their lives and events.
"It's important to learn math, but it's also more important to learn that when you don't know where to go to get help," Stephens spoke, of what else she had taught in her short time at PCM. "Even though I am teaching math, I feel as if I am teaching students where to find answers and who can help them."
On the last day of regular class before semester tests, her classes will most likely be involving a sort of leaving party for her. Even with all of the exciting future plans, she will still miss the small-town atmosphere and seeing the students every day. With social media being such a large part of people's lives now, she hopes to keep in touch with the staff.