Girls run wild at Pella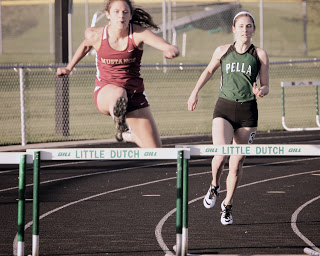 by Tyler Foster
With so many season bests at Pella, the girls' track team had a very good night with senior Rachel Peter setting two personal bests. The team ran at the Pella Dutch home meet last Thursday night, April 30, on a beautiful night to run. The team finished fourth, despite being the only 2A team at a bigger school meet.
Head Coach Bridget Martin said, "The race for second place tonight was very close. We were the only 2A school in the bigger class at tonight's meet, so we are pretty proud of our girls for being in a fight for second place. We had a lot of girls run season bests and break personal records tonight, which is a lot of fun."
Peter earned two top finishes, winning the 1500 with season's best time of 5:00.99 and the 3000 with a personal best of 11:16.9. The 4×200 team of senior Mackenzie Clarke, juniors Ashley Van Gorp and Emily Hugen, and sophomore Jayci Vos, also ran a season best clocking in with a 1:49.08. Another notable performance for the Mustangs was Vos finishing second in the 400 meter hurdles with a season's best of 1:06.66.
Peter said, "This was the first time I actually had a lot great competition this year. With great runners from Pella and Newton I knew it was going to be tough.  During the race I knew I had to pace off of Grace [Coen] so I could keep up with the lead. I felt great when we were nearing the end of the race and had kicked around her at the end."
With the track season coming to a close, the girls will look to continue their improvement tonight, May 7, in Newton.