PCM Robotics rides early success into second year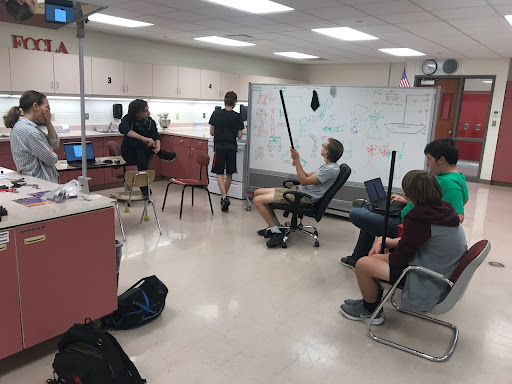 The 2020-2021 school year was the first year of competition for PCM Robotics. The team made up of freshmen and sophomores made it all the way to state with their robot, the Philosopher's Stone. This year, they are still tight-knit with their senior members being juniors Evan Johnson and Justin Hall. Their advisor this year is also different from last year's Daphne Owens; this year it is Jennifer Brown. Last year the team (called the PCM Alchemists) was incredibly successful for a first year team's standards during competitions, which start the week of Jan. 8, 2022. By that time, the team has to have a working robot that can do certain tasks. 
"This year, the theme is 'freight frenzy.' So it's about moving freight around," explained Brown. "Our challenge is to navigate different obstacles and pick up three different things. There's cubes, balls and rubber ducks [to pick up]. Their robot needs to be able to pick up all three shapes and deliver it to different hubs. Basically, pick up three different shapes and deliver them around the field." 
Last year was the first season, and Brown was impressed with what the team accomplished, especially with it being their first season. Robotics is very serious in the midwest, with the World Championships being held in Detroit every year. 
"[Only] the top eight or so get awards [at state competitions] and so beyond that we don't know where we placed," said Brown, "We just know that we made it to state. But for a rookie team to make it to state is very unusual. For us to not get any awards wasn't unexpected." 
Every year, the robotics team is tasked with building a robot that can do certain things. Because they already had a year of competitions, they know what to expect. At this point early in the season, a timeline is being mapped out. 
"Our goal is to have a working robot by Thanksgiving, so that we have all of December to fine-tune it, work through problems and practice driving," Brown said. 
Junior Justin Hall said something very similar. He knows what it takes to succeed and believes that the Alchemists are well on pace to do so. 
"Best case scenario [for the year] is probably where we're at right now," Hall assured. "We'll probably have a bot together in a couple of weeks [after they get parts ordered]. But we have a pretty general idea of what we're doing, and the way it's looking, we should be able to do pretty well this season. All the cards are in our favor." 
 Hall also addressed the meetings, which are every day after school in PCM's FCS room. That is when the group's personality really comes out. 
"A solid twenty to thirty minutes of [our meetings] is messing around," Hall said. "Usually we'll meet for like an hour and a half to two hours. The point of it is more or less to touch base. We want to do things outside of school because stuff like 3D modelling is easier to do in your own time than it is than it is to do in a group environment."
Long story short, the PCM Alchemists are on pace for an even better year. Everyone is growing and learning, which is important; time will go by quickly as the season progresses. 
"[Pretty soon] we'll start breaking down a list of what we need to do and doing it. Stuff like teaching the new members CAD [Computer Aided Design] and getting a general feel for the new game," Hall said, "and just setting up what we want to do in the future. That is what we've been focusing on right now."