Month of Music at PCM
by Chase Spencer
The month of May has been full of PCM band and choir performances. The band marched in the Tulip Time Parade on May 3. Both groups performed at State Large Group on May 5 at Woodward-Granger, and had their home concert and awards ceremonies held on May 9 at PCM Middle School.
At Tulip Time the band performed, "I Want You Back" by the Jackson 5. With rain in the forecast the band still managed to have a great performance. At State Large Group both groups received a Division 1. This was an improvement for both groups from last year. The band performed, "Anthem for Winds and Percussion" by Claude T. Smith and "Basque Lullaby" by Dan Forrest.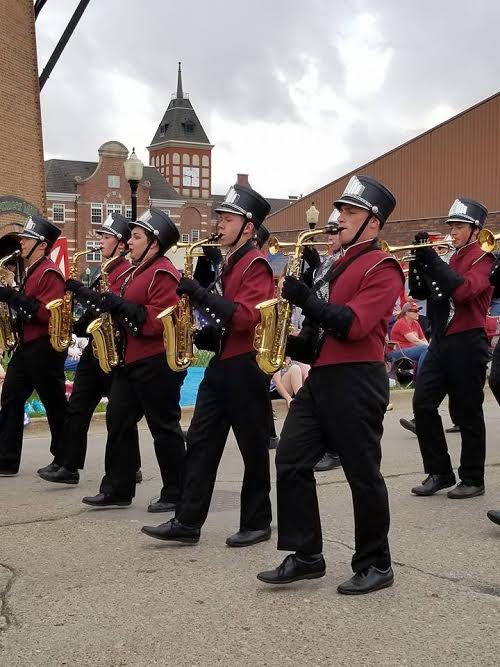 "The band had an outstanding performance at State Large Group. They adapted to the new performance space quickly and had some very impressive musical movements," band director Louis Dupuis said.
The choir performed three songs including, "With a Voice of Singing" by Martin Shaw, "Set Me as a Seal Upon Your Heart" by David N. Childs including a trombone solo by sophomore Rea McClellan and "Come to the Music" by Joseph M. Martin featuring a piccolo solo by junior Bella Sitzmann.
The home concert proved to the community just how dedicated the music department is with 15 band students lettering for the first time this year, and 27 choir students lettering in all. The band performed the same songs they played at State Large Group in addition to "Zillion Nickels" by Samuel R. Hazo. A jazz band consisting of only seniors also performed, playing "Europa" by Carlos Santana featuring senior Drew Johnson on the guitar. A senior concert band also performed, playing "Sheltering Sky" by John Mackey. The senior concert band was directed by past high school and current middle school band director Ben Varner. Junior Wyatt Van Gorp and Sitzmann performed their solos that received best in center at solo/ensemble competition.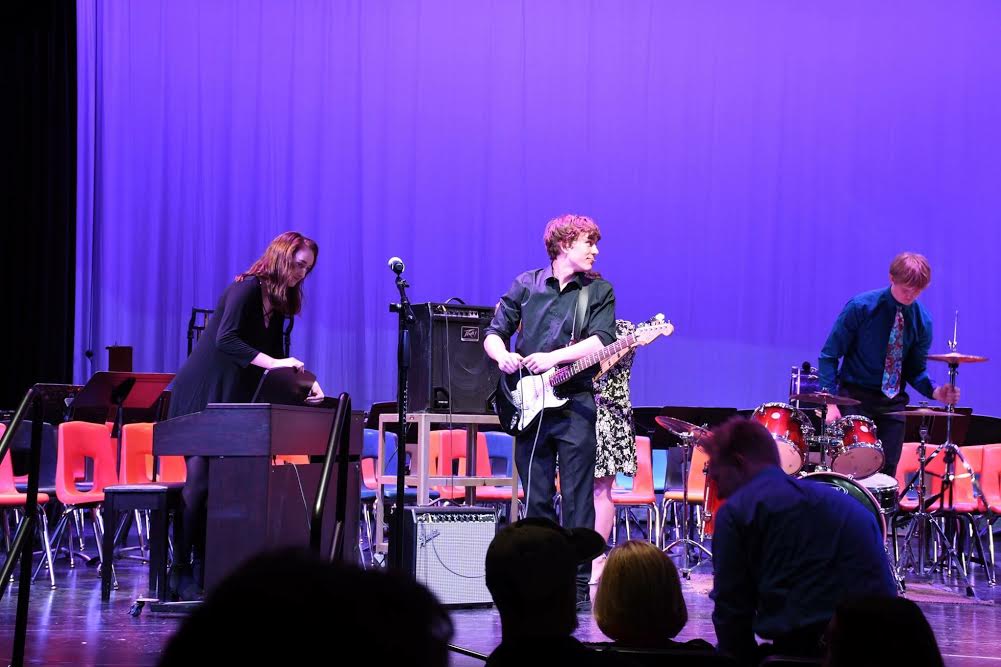 "My favorite part of the home concert was the fact that we had so many different featured soloists, ensembles and styles of music performed. Our students in the music department are very talented, and it's exciting to have the opportunity to demonstrate that to families and the community," Dupuis said.
The choir performed the songs they sang at State Large Group with three small group performances. The men's ensemble performed, "The Gallant Knight" by Mark Patterson. The women's ensemble performed two songs including "Dona Nobis Pacem" by Mary Lynn Lightfoot and "Go now, My Love" by Claudin de Sermisy. Seniors Sydney Burns and Sidney Metzger performed "Landslide" by the Dixie Chicks accompanied by guitarist Johnson.
Choir director Chloe McCartney said, "I really enjoyed seeing all the small groups perform both from choir and band. It is really fun to see all of the students showcase their individual talents."
With the school year coming to a close, the music department is finishing up their year. Both the band and choir will be performing at graduation. The band is preparing for their next year's marching band performance, Generation X, and the choir has started an a capella group. You can see both groups perform at the PCM High School graduation on May 27 at 2 p.m.