Mustangs push through large competition at ISU
by Ashley Miller
Just like last year, the PCM girls' track team started off their season indoors. First, at Central College's Indoor Track for the Pekin Invite and next, at Iowa State University's Lied Recreation Athletic Center. With over 40 teams present, and an unfamiliar 300m track, the Mustangs had to push hard to get high-placing finishes at the Iowa State Girls High School Classic on March 13.
In the 60m hurdles, the first open event of the day, sophomore Megan Cowman finished first in her heat, but 26th overall with a time of 10.52. Sophomore Maddie Samson threw 33 feet, seven inches in the shot put, placing 16th. Senior Jayci Vos was 16th in the 60 meter dash, crossing at 8.52. She would also jump 14 feet, 11.25 inches in the long jump, landing 12th place.
"I am very excited about this year's track season. I have some very high goals for shot put and discus. I want to go to State and reach my full potential. My first few throws felt very good, I am very excited to get some outdoor meets under my belt," Samson said. "I have been working a lot on my discus throws, my spin in particular."
Sophomore Kirstin Ives and freshman Sayde White were the two Mustangs in the 1500 meter run. Ives placed 30th out of 73 with a time of 5:42.23, and White was right behind her in 41st at 5:52.41. Sophomore Paytan Schut placed 13th out of 82 runners in the 800 meter run with a time of 2:36.72, beating last season's PR of 2:39.45. She ran in heat three and not only won her heat, but beat every runner in heat two. Freshman Hailey Schutte also ran the 800, placing 38th with 2:52.28.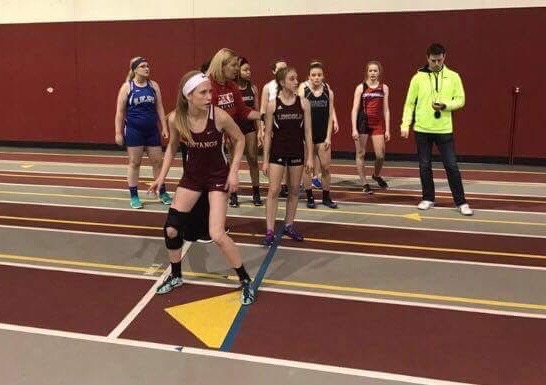 "It felt good [to start off the season]," Schut said. "I hope in the meets to come I continue to knock off time."
The Mustangs placed in the top half in all relays. Schut, Ives, Schutte and sophomore Sloan Hjortshoj made up the 4×800 team. They placed 14th with a time of 11:02.86. The sprint medley team of freshman Sierra Foster, junior Ashley Miller, senior Tatum Nearmyer and Vos won their heat, but placed 16th overall with 2:01.68. Vos, Foster and Nearmyer would join Schut for the 4×400. They placed tenth out of 44 with 4:21.71 finishing off the night.
Next Tuesday, April 4, both the girls and boys track teams will be home for the PCM Co-Ed Invitational. Field events begin at 4:30 p.m.