​Miller second, Roland fifth; Waddell's reign ends
by Kinsey Phipps
State wrestling seems to be a yearly trip for the Mustangs. On Feb. 16-18, three returning State qualifiers were back at Wells Fargo Arena for another chance to step on the podium. Those three wrestlers were 145-pound senior Xavier Miller, 160-pound sophomore Lucas Roland and 170-pound sophomore Jarron Trausch. Trausch went 1-2 at the State Tournament but was out of the running for a medal on the second day. Roland placed fifth, two places ahead of his spot on the podium last year. Miller made it to the State finals but lost his last match of his high school career, earning him second place.
Head Coach Cory Waddell said, "I thought all three wrestled well. While they all hoped for better results, they all wrestled hard."
In the first round, Miller faced No. 9-ranked Tate Battani of Ballard. It was a back-and- fourth battle, but Miller prevailed in sudden victory 10-8.
Roland faced No. 9-ranked Kolton Bartow of Dubuque Wahlert in the first round. Things didn't go as planned for Roland as he lost in the last period 6-3. Roland wrestled in the consolation bracket later that night, winning by fall in 2:33 over Zach Williams of Osage.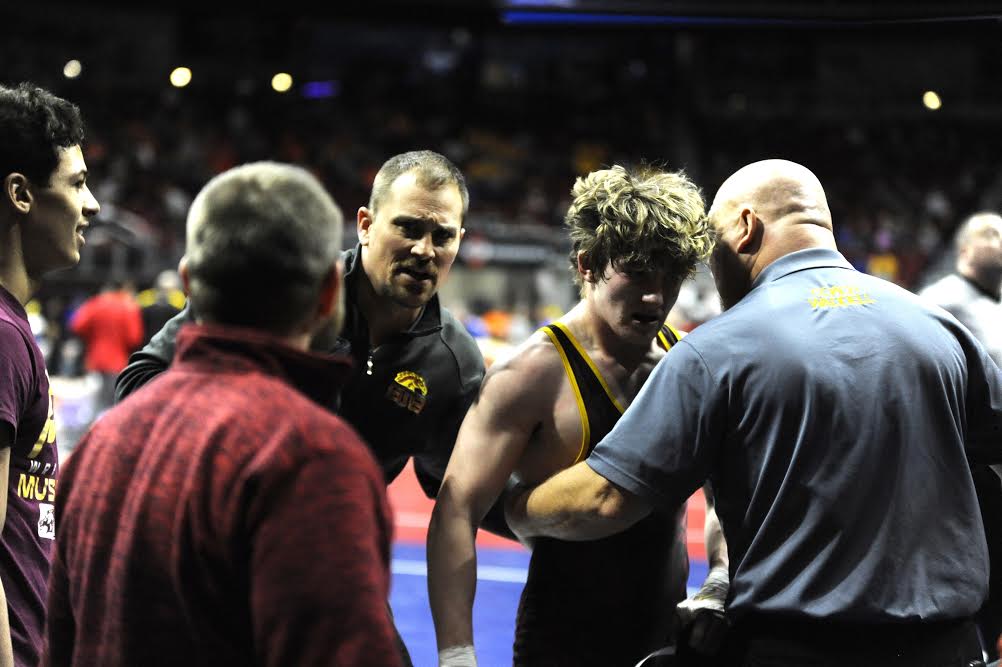 Trausch had a successful first round, winning by major deci- sion over Mike Hoyle of Solon 12-3, a win that avenged a loss from earlier in the season.
All three 'Stangs qualified to move on to the next round on Friday. In the quarterfinals Miller defeated No. 10 Paul Ryan of Mount Vernon, 6-1. The win was Miller's ticket into the semifinals later that day. Trausch also wrestled in the quarterfinals, but he was defeated by No. 8 Noah Glaser of New Hampton, 6-5. Roland and Trausch later wrestled in the consolation bracket. If they lost they were finished. Roland was up first. He guaranteed himself a medal, winning 14-9. Trausch faced Drake Roller in the consolations, but he fell to Roller in a time of 3:14.
Roland and Miller both wrestled later that night with Miller in the semifinals and Roland wrestling to see how high up the podium he could climb. In the semifinals, Miller faced Matt Stines of Cherokee. Miller won 6-3, guaranteeing him a spot in the finals on Saturday night.
How did Miller get there? Waddell put it simply, "Hard work, dedication and desire."
In the consolation round Roland faced No. 6-ranked Tristin Westphal-Edwards of Washington, which he won 3-1. This meant the worst Roland could do was sixth place.
On Saturday morning, Roland wrestled to see if he would go for third or fifth place. He faced Bartow again, and he fell by decision 7-5. As a result, Roland wrestled No. 4-ranked Trevor Nelson of Solon in the fifth place match-up. Roland won by fall in 1:32, earning his fifth place medal.
Saturday night was the State finals, with Miller facing No. 1-ranked Ryan Leisure of Clear Lake. Leisure beat PCM alum Tristan Clark two years ago in the finals when Leisure was just a sophomore. Miller walked the Grand March and prepared for the last match of his high school career. Before the match Leisure was a four-time State finalist and a two-time State Champion, so Miller had his work cut out for him. Unfortunately, Miller lost 5-0. He ended his career with a PCM record of 156 wins and two plaques in the Mustang wrestling room, signifying each of his trips to the Well.
Not only was this Miller's last run for PCM wrestling, it was also Waddell's, as he was forced to resign due to work duties.
After the finals, Waddell had his last duty as head coach, "It was an emotional time for me, mostly trying to comfort Xavier. Later, I did a lot of reflecting on the season and my five years as head coach," Waddell said. "[PCM wrestling is] a fantastic program with high expectations and the athletes and coaches to get them to the next level. Being a small part of that was an amazing experience."