Boys' basketball looking to get back into mid-season form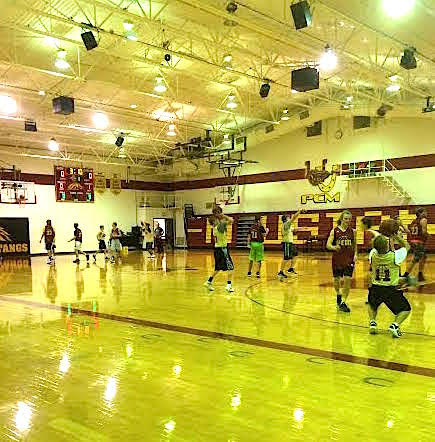 by Dylan Sanders
Mustangs boys' basketball is starting up again, so you can expect another exciting year from this year's group. From the 2015 campaign, senior Mark Bruxvoort, juniors Elijah Sperfslage, Jackson Thomas and Dayton Boell will be returning, along with a slew of other juniors and sophomores. These players are looking to continue the success that the past few years have brought.
One name that stands out from last years graduating class is Logan Gilman.
"We always miss all of the previous year's seniors, but Logan Gilman was a very special player for us. He will be hard to replace," Head Coach Fred Lorensen said.
Last year's graduation took away some great talent from PCM, but there should be more than enough capable underclassmen that can help replace the talent that has left.
 I expect a lot of good competition for playing time this year because of our depth. Some freshmen might even contribute to the varsity if they play well enough on the JV squad," Lorensen said.
This years team is expected to be very fast. They will use their speed and athleticism to gain the advantage early on in the season this year.
"I think our strengths this year will be shooting and depth,"Lorensen said. "Some of our young kids are good athletes, and they have a chance to be great basketball players."
A notable sophomore that played varsity minutes last year is Andrew Van Ryswyk. He will be a signature playmaker for the Mustangs this year.
"I think our conference will be very competitive this year,"Lorensen said. "Most likely South Hamilton and Gilbert will be our biggest competitors in the conference."
Lorensen will have to rely on a lot of underclassmen this year to have success in conference play. The first varsity boys basketball game will be on Tuesday, Nov. 29 versus Roland-Story at home, with tipoff at 7:30 p.m.