by Taylor Burns
Many personal record were set for both PCM boys and girls cross country teams in Pleasantville on Sept. 12.
The girls defended their title in Pleasantville for the second year in a row, placing first out of nine teams. The boys came in second also out of nine teams.
"It's pretty typical to drop times quickly after the first meet or two," Head Coach Eric Karr said. "Their body start to remember how to run a race compared to easy jogs all summer."
The boys alone had nine personal records, five of which came from the JV team.
Senior Chris Ellens came in first, once again, out of 88 boys setting a new personal record of 17:06. Freshman Jason Stafford came in ninth, also setting a personal record of 19:16, while another personal record was set when freshman Jacob Cox came in 25th running a 20:46. Senior Mark Bruxvoort and junior Brady North came in in 26th and 27th place both coming across the finish line in 20:57. Junior Caleb Peter and freshman Owen Hugen finished in 28th place at 21:55 and 46th place at 22:30, respectively.
The next four runners that came in all set personal records as well. Sophomore Carson Clark ran a 22:40 in 49th place with freshman Blake VanDerKamp running a 22:41 in 51st place. Freshman Cody Courtney, setting a personal record, ran a 22:51 crossing the finish line in 53rd place with sophomore Brendon Vanderpool in 57th place running a personal record 23:12. Junior Brad McClellan ran a 24:12 coming in 66th place. Freshman Ayrton Breckenridge ran a personal record of 25:18 in 73rd with sophomore Payton Konek in 75th place running a 25:30. Freshman Cooper Vandelune came in 80th place setting the final personal record for the boys at 26:41.
"My goal is to get under a 16:50, and to keep having fun," Ellens said. "I love racing, and this year has just been a blast for me so far. I want to continue getting better and doing my best."
Freshman Klaire Jungling led the girls' team in third place setting a personal record of 22:54. Sophomore Kirstin Ives was not far behind her in fourth place also setting a personal record of 23:02. Sophomore Payton Schut ran a 23:08 coming in fifth place with senior Rachel Stafford in ninth setting a personal record of 24:07.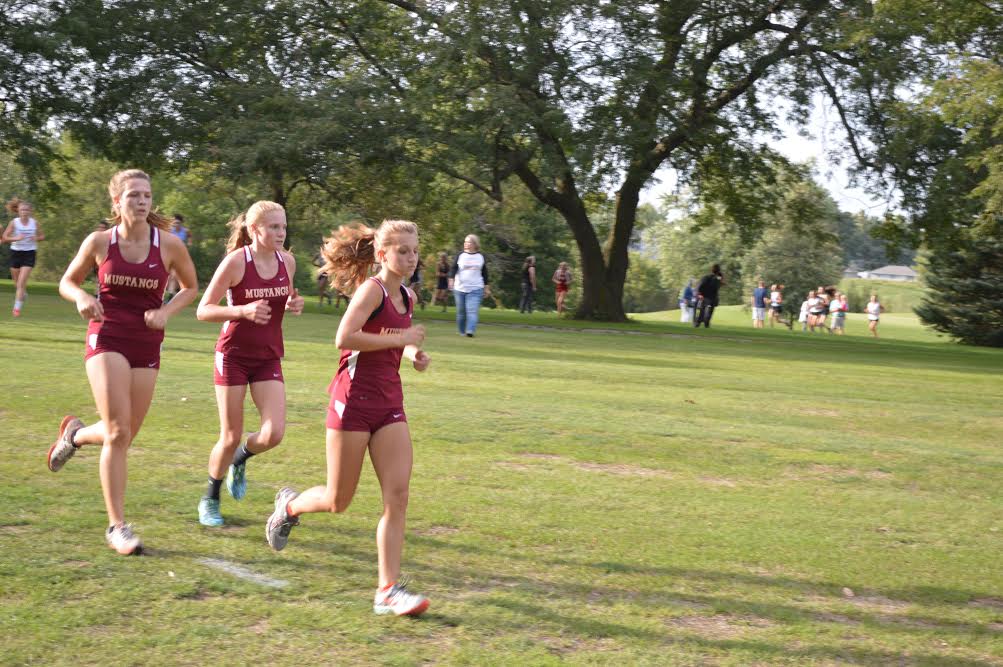 Junior Ellie Steenhoek set her personal record two seconds behind Stafford with a 24:07 in ninth place. Sophomore Megan Townley and senior Jayci Vos, who had been out the previous two meets because of a concussion, ran 24:34 and 24:43 in 14th and 16th place, respectively.
Junior Baylee Smith ran a 25:00 coming in at 19th place with sophomore Morgan Uhlenhopp coming in at 25:20 in 22nd place. The last two runners for the Mustangs were freshman Breanna Vanderpool and Katie Henkenius. They both set personal records of 26:37 and 31:43 in 35th and 66th place.
"It was a little rough [to be running again], but I've got to trust the process," Vos said. "A goal for myself and the team is to be running PR's at the district meet, and if we can do that I strongly believe we have a shot at qualifying for state as a team."
Come support the boys' and girls' teams as they run at their only home meet of the season at Gateway Recreational Golf Course in Monroe at 4 p.m.
"The questions is whether we can continue to drop times throughout the end of the season," Karr said. "So, fast times are great, but it's all about the big picture, which is October 20."