Soccer bots lose some, win one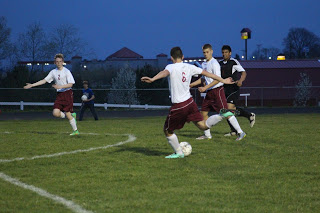 by Ryan Kohlhof
PCM's soccer boys had quite a tough week last week playing three separate games. The first was April 11 at Ankeny Christian Academy, and was varsity only. The Mustangs ended up losing that one 2-1, with Colfax sophomore Misha Seebeck being the one who scored their lone goal during the second half.
Their next game was April 14 at Nevada, which included a varsity and JV game. Varsity started off and had a tempestuous go at it, losing 5-0. JV followed shortly after and faired no better with a loss.
The last game of the week was April 15, and that was girls' and boys' varsity only. The varsity boys seemed to pull everything together that day, winning 1-0, with Seebeck scoring their lone goal during the second half once again. This leaves the Mustang boys undefeated at home.
"As players we need to work on more control of our touches and get better at passing or playing the ball and always communicating," Head Coach Darrin Telfer said. "As coaches we need to keep pushing the players to work hard and get better every day, as well as keeping a team concept in our minds every day."
The boys will play again, today, April 21, at home versus Chariton. JV will play first at 5:30 p.m., and varsity will follow. They also play Friday, April 22, at Maxwell against CMB, with varsity starting at 5:30, followed by JV.