Fantastic four on to State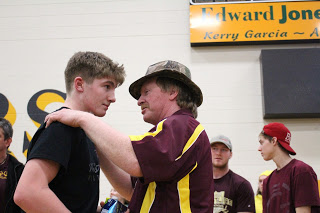 by Kinsey Phipps
Stakes were high and nerves were higher for all Mustang wrestlers and fans as they saddled up and rode to Knoxville for the 2A District six State qualifying tournament. With seven wrestlers competing, a trip to the Well was going to be no surprise for PCM. The Mustangs succeeded in their goal, sending four grapplers to the Iowa High School Athletic Association State Championships at Wells Fargo Arena. The four wrestlers competing at State are 138-pound freshman Lucas Roland, junior Xavier Miller in the 145-pound weight class, 152-pound freshman Wes Cummings and freshman Jarron Trausch competing in the 170-pound weight class.
For the PCM lightweights, the day was a rough one, as they all fell to their opponents in the first round and in their third-place matchups. Those wrestlers were 106-pound junior Jakeb Fenton, 113-pound freshman Clay Van Wyk and freshman Chance Palm, competing in the 120-pound weight class, all earning fourth place.
Then the day looked up, as Roland, Miller, Cummings and Trausch all won their first-round matches, locking their spot in the championships.
Going in order of weight classes, Roland was the first up to wrestle for first place. He faced senior Oscar Ruiz of Saydel. The match wasn't a tough one, as Roland pinned Ruiz in 1:33, signifying his place in the State tournament. With the top two wrestlers moving on, Roland and Ruiz will both be wrestling at State.
Roland worked hard and did lots to improve in order to accomplish a goal in his freshman year, a goal that some people spend their entire young lives working toward. That goal is wrestling in the State tournament.
"I spent my summer wrestling freestyle and Greco, and I won the State tournament in both of those styles. Then, I competed in the National tournament for those styles at Fargo in July. Then, instead of playing football, I practiced everyday after school with Miller. We practiced at Simpson with the college guys on Saturdays until the season started. Miller and I also competed at a National tournament called Conflict at Carver where we wrestled people from all over the country," Roland said. "We pushed each other, and we will all push each other and compete every day in the practice room."
Next was Miller facing a tough opponent, no. 1 ranked senior Bryce Leshen of Albia. With a close loss last week, Miller was out for revenge. He fell short, though, losing in a close nail-biter, 5-2. Miller then had to wrestle in a wrestle back for second place. Wrestle backs occur at the Sectional and District tournaments when the third place finisher hasn't faced the second place finisher previously in the bracket. If it's the Sectional tournament, the winner moves on to Districts. If it is the District tournament, the winner qualifies for the State tournament. Miller pinned his opponent in the wrestle back in 1:26, earning second-place and taking him to the State tournament.
Next, it was Cummings' turn. He faced no. 6 ranked senior Blake Lawless of Albia. At sectionals the previous weekend, Cummings defeated Lawless in a major decision 10-1. However, Cummings lost by decision 8-6 as Lawless scored a takedown within the final seconds of the match. With that, Cummings also had to wrestle in a wrestle back for second place. He pulled through, though, pinning junior Kenton Brekke of Ballard in 5:46. Cummings will now wrestle in the State tournament.