Mustang basketball have different nights at North Polk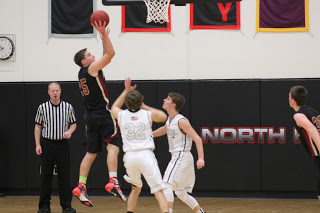 by Gunnar Davis
Both of the PCM Mustangs' basketball teams traveled to North Polk to take on the Comets in a mega night on Jan. 29. Although both teams fought hard, they both had different results. The girls' final score was a 52-46 loss after an overtime bout, and the boys' score was a 59-41 win.
During the girls' game, it was a fight to the finish. Both teams were delivering big shots and big plays throughout the whole game. After the first half, the score was 27-25 Comets. But the Mustangs battled back to head into the the final quarter, 34-33.
The fourth quarter was led by the Mustangs until the very end. PCM was up 43-40 with 20 seconds remaining when North Polk grabbed a rebound off a missed free throw. They took the ball down the court and ran some time off the clock until Comet junior Maddy Hill got an open look from the 3-point line. She drained the shot with two seconds left, and the Mustangs were left scrambling while the clock ran out.
In overtime, PCM couldn't get anything going offensively, and North Polk had some momentum. The Mustangs couldn't keep up in the end, and the Comets took home the win.
Junior Kayla Jennings finished with 12 points, and junior Katie Vande Wall had nine points and eight rebounds.
In the boys' game, the Mustangs controlled the Comets right from tipoff. PCM scored nine straight points before North Polk was even on the board. The Mustangs were making the Comets' shooters uncomfortable, while also seemingly making every open shot they took.

Senior Logan Gilman once again led the team with 26 points. Senior Austin Brown and junior Luke Greiner each had eight points. Freshman Andrew Van Ryswyk had 10 rebounds.
"We did a really good job of controlling or energy from the tip," Gilman said. "We did a good job with our help defense as well. To keep winning we are going to need to keep playing good defense and playing hard. We need to make sure we're moving the ball to get good shots."
Both teams are in action next as of press time on Feb. 5 at home against Nevada. Girls' game starts at 6 p.m.