Gilman steps into even bigger shoes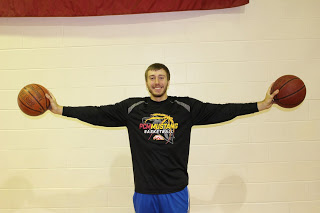 by Gunnar Davis
For the better part of four years of basketball at PCM High School, senior Logan Gilman has been "the guy." He's played basketball for the varsity squad ever since his freshman season, and the past two years he's averaged over 17 points per game. But he may have an even bigger role for this year's team.
Gilman has seen and done so many things for the Mustangs in the past, including being on two conference-championship teams and earning First Team All-Conference honors, twice. But one thing he hasn't done is make a trip to Wells Fargo Arena for the a chance at the State title.
"Winning the conference title is a big thing for us," Gilman said. "But hopefully, we make a run and make it to the State tournament. We haven't been there since I've been in high school."
Just recently, Gilman went over 1,000 points for his career, when he scored 27 points against rival CMB on Dec.  11. He is already averaging over 20 points a game, and that win moved the team's record to 4-1.
Although his personal accolades keep adding up, Gilman is more of a team player.
"I'm excited to be around this group of guys," Gilman said. "I think we'll have a lot of fun this season."
Gilman has been playing basketball ever since he was little and joined his first major AAU team when he was in seventh grade. His AAU team and his performance for the Mustangs earned him lots of looks by college basketball coaches. Recently, he was offered a scholarship from Grand View University, and he committed right away.
"I've always kind of liked them. I did a bunch of camps there when I was a kid," Gilman said. "I like their coach a lot, and they have a pretty good program. Being in Des Moines is nice, too, so my friends and family can come watch me play."
Gilman is excited for his time at Grand View, but before his entrance into college ball, he and the Mustangs have a lot of work to do. One thing's for sure: if his final season goes anything like the first five games, expect a big year out of PCM basketball.